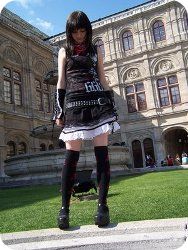 The winners of the recently concluded travel video contest were now known online with the lucky entry bagging this year's $3,000 grand prize. The contest was sponsored by international student.com.
The finalists showed excellent videos and amazing stories and they were voted by the people who saw their videos. However, aside from the votes counted during the period specified for the voting, judges were also given the final say who actually won the coveted top prize of $3,000. Even a students from a military school is welcome to participate, it was learned.
The winning entry was a video owned by Mr. Jorge Ernesto Martinez Alvarez of Atizpan, Mexico. His entry entitled "Jorgeratu" was inspired by a silent movie in 1922 called "Nosferatu" which started the vampire movies all over the globe. The organizer said Jorgeratu was perhaps the strangest entry they have received in its adaptation of Nosferatu. This tells the amazing and interesting story of real-life Jorge Alvarez himself who portray the role in said movie clip. He has taught himself Korean as he continued his dream of taking robotics and biotechnology in South Korea. Many said the video is really similar to the silent movie it adapted. An online degree school is also planning to showcase the winning entry in their class, it was learned.
The second place was entitled "Watercolors" filmed by Ms. Natasha Mendonca, a known film-maker in California. The story she has chosen is all about her family losing all the things during a flood in Bombay, India in 2005.
The third winning entry was owned by Ka Seng Ao. It tells about himself while still a student at USC in Macao. He ponders on an isolated life in a western society. In this video he has interesting footages and effects. He also included his dramatic life in Kenya. In fact, he wants to go back there to see his child there who he sponsored many years ago. Anja-Dejana Leginovic is fourth place with his video entry entitled "My Journey" which she left from her war-torn country of Serbia to pursue her dream of having a brighter future in Iowa. The courage of her parents, to keep the family moving despite challenges and trials, was her inspiration to continue living and pursue his dream.