Without a doubt one word that puts fear in all students is exams.As the summer arrives it also brings with it the inevitable exam period, which we sadly can't avoid. Fortunately, there are a few things that we can do to stop us from stressing about all the exams we have to make our way through, before we can can enjoy our summer.
Breathing techniques
Breathing techniques are a great way to quickly help us to relax. When we feel ourselves getting stressed we can use these
exercises
to help us feel calm and to clear our minds.
Regular exercise
Getting regular exercise can help us to relax. Even if it's just 20 minutes, 3 days a week, it can help. Anything from a brisk walk to a game of football with friends counts.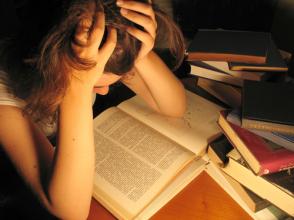 Take care of yourself
It's important that our student habits don't cause us to start eating poorly and losing sleep. Feeling good is one of the easiest ways to combat stress, so make sure to take care of yourself while you are studying.
Brain foods
and at least 6 hours sleep is just what you need.
Take regular breaks
Information overload is only going to cause our stress levels to increase. We should make a plan of what to study and include some "me" time. Have regular breaks such as watching TV, catching up with a friend etc so you can focus on something other than the books.
Smile and be positive
Having a
positive attitude
is one the easiest and most simple ways to combat stress. A negative "I can't do it" attitude has never helped anyone, so get rid of all your negative thoughts and say positive.