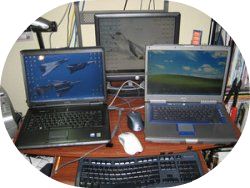 BATON ROUGE — Good news for students in the United States! In Louisiana you can enroll in online degree program using only a cellular phone. It really sounds impossible but it is now happening in this part of the country because of the modern technology we have today.
The Louisiana Community and Technical College System just introduced LCTCSOnline, an innovative online education now known as the premier education online program. The school offers college courses by simply using a cellular phone.
President Joe May of LCTCS said students can simply have access to education even when they are anywhere in Louisiana. He said starting January 5 the school will offer business and education courses using only cell phones for only a very affordable $63 per semester hour. The school already offers online education courses that by using the computer students can have access to the programs. The new system can be addressed already in both ways – computer or cellular phones. In short, the school offers mobility to students and this is really an awesome career opportunity for everyone.
Mary Beth Susman said students can study even on the road as soon as the program is operational. "Wherever the students are they can study their lessons, "says Ms Susman. Through the LCTCS's website the students will have access to discussions boards, faculty members, lectures, and class materials. Students can also order books because of the presence of the school's online bookstore.
Reports had it that in Louisiana 25 percent of the 4.2 million people owns BlackBerry, Iphone or other device which is recommended for the program. May said if the students need financial assistance they need to qualify so that the phone's cost can be included in the cost of the program.
Right now records can show that many technical college and communities already qualify for grants such as the Pell Grants and this program covers the equipment cost required in class. The Louisiana Board of Regents had initially granted a $500,000 grant to the program implementor. The program was developed in nine months with the able support of Pearson Custom Solutions which design the technology as well as the courses. The AT and T also assisted the program on the side of cellular transferability.